Maybe you've asked yourself some of the following questions:
Why do young children sometimes say things that are wrong, like "I finded it!", even though they've never heard their parents or other caregivers say this? (And why do they often persist in the same mistakes for a period of time, even if adults try to correct them?)


 

On the other hand, how do children learn to say completely new sentences that are grammatically flawless (e.g., "Maybe you can bend the elephant so he can sit in the car", when playing with toys), when they've probably never heard anyone say something exactly like this before?


 

Why is it so hard to learn a new language as an adult? Are some languages more difficult to learn than others?


 

Do animals have language? Can computers learn language?


 

Is language the same as thought? (Do we have to use words to be able to think about things?) Does language influence the way we think?


 

Are certain ways of speaking "lazy" or "sloppy"? Are some accents "beautiful" or "ugly"? (Can we really say that one way of speaking is inherently better or worse than another? And if not, why do people often think this is true?)


 

Why does language change? Is change bad?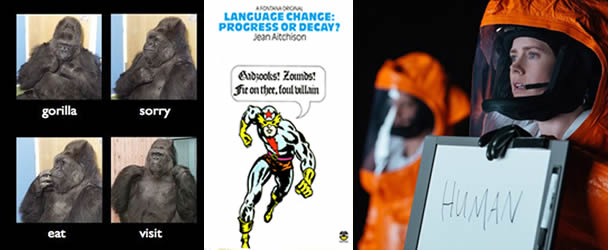 Almost everyone is interested in language in one way or another, because language is a fundamental part of what makes us human. A degree in Linguistics will provide you with a better understanding of how we produce and comprehend language, how children and adults acquire a language, how languages vary and change over time, and how speakers use language in different social situations and in different groups. You will learn how to describe and analyze language using different tools and methods.
Studying linguistics is different from learning a lot of languages (you can be a professional linguist and only speak one language), but you will learn about different features of many languages and have the opportunity to apply your knowledge of languages that you have studied.
Studying linguistics will help you acquire valuable intellectual skills, such as analytical reasoning, critical thinking, argumentation, and the ability to express yourself clearly in writing. You'll learn to make observations, formulate clear and testable hypotheses, generate predictions, draw conclusions, and communicate your findings to a broader audience.
Depending on the courses you take, you will also learn specific practical skills (using software to analyze, process, or model language; using statistical methods; conducting experiments; etc.).
Students with a degree in linguistics are therefore well equipped for a variety of careers and for graduate and professional degree programs. Many of our students go on to graduate programs in linguistics or in related fields, such as cognitive science, neuroscience, psychology, computer science, anthropology, philosophy, communication sciences, education, English, or other languages. The intellectual skills that students acquire also make them well prepared for professional programs in fields such as law. Career opportunities include the following areas:
industry (e.g., speech recognition, text-to-speech synthesis, artificial intelligence, natural language processing, user research, and computer-mediated language learning)

government (the Foreign Service, the Federal Bureau of Investigation (FBI), the National Security Agency (NSA), the Central Intelligence Agency (CIA), the Department of Defense, and the Department of Education all hire linguists; similar opportunities may exist at the state level)

education (teaching [including teaching English as a second language], development of instructional materials, educational research)

advertising and publishing

translating and interpreting

linguistic consulting for professions such as medicine or law.
For more information, see the resources on the Linguistic Society of America website.